World Cup Fever
World Cup had come....almost every men and some women all over the world are making fuss bout it. Be prepared for lack of sleep, arguing over who had the TV remote, etc...hihihi...
Demam world cup dimana2, baju2 yang ada gambar bendera masing2 negara, yg ada tulisan world cup, pernak pernik kaya gelas, pensil, botol minum, handuk dll...wah banyak banget d....
C4 dari sebelum world cup dimulai dah semarak dengan balon2 udara yg berbentuk bola...Lucu d...mBy suka banget liatnya.....Tiap lewat c4 pasti heboh liat balon bola...hehehe....
Hari Minggu kemaren mBy jalan2 ma PopMom n Mbak...mau belanja buat keperluan sehari2nya mBy yang dah abis....sabun, diapers, susu, dll....
Emang sih pas jalan2 itu liat banyak anak2 yang wira-wiri sana-sini dengan muka yang bergambarkan bendera salah satu peserta piala dunia....Ah cuekin ajah....
Abis bayar di kasir, mau pulang, Mom liat tulisan "FACE PAINTING" dengan panah ke kiri. Tanya Pop mau di face painting gak (berhubung Pop itu yg gila bola)....Ya udah kita jalan aja liat dulu ke sana... Trus dibilangin ma Mbak2nya kl syaratnya belanja min. Rp. 200.000,- & boleh ikutan dilukis wajahnya, difoto n kalau mau fotonya diikutin lomba di c4 setempat. Kalau menang...mayanlah dapet voucher belanja.
Buat pemenang I dapet voucher Rp. 2jt, pemenang II voucher Rp. 1jt, pemenang III voucher Rp. 500rb and hadiah2 hiburan Rp. 250rb each.
Ah isenk2 coba d Kk dilukis, dah takut aja dia rewel soalnya dah agak si "ngangan". Ternyata pas dilukis, dia anteng banget, gak gerak sama sekali...Alhamdulillah....
Selesai dilukis mBy diphoto, wah heboh org2 berusaha bikin mBy ketawa, abis dia bengong aja bingung ngeliatin orang2 disekelilingnya plus ngantuk tadi, jadi gak berselera bergaya kaya biasa.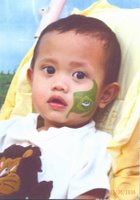 Akhirnya ada yang berhasil juga bikin mBy ngasih liat kelincinya...hehehe....
Alhamdulillah mBy menang loh sdara2.....Malemnya Mom ditelpun ma pihak c4 dikasih tau kalau QolBy menang juara pertama n hadiahnya dah bisa diambil hari Senin-nya...Alhamdulillah....terima kasih ya 4JJl.....
Ini juara2nya neh....
Hadiahnya neh.....